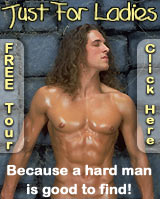 Note: This site is now defunct. Please visit For The Girls Instead!
Waxed Chests
I've waxed my share of chests in my time, back when I was an assistant at a beauty parlour. Sure, the majority of them were women with hairy nipples, but I had a go at a few confirmed bachelors.
Indeed, I performed one of my first full-body/Brazilian waxes on one of these gay blades. I wasn't entirely sure how to perform the task, so I just poured the bottle of wax all over him and grabbed a tablecloth. It was as easy as doing that Italian trick where you remove the cloth from the table without moving any of the plates.
I just pulled, and there was this sssrrreeiiiicckkk sound, and then he was hopping around yelling some kind of Indian mantra and his skin went a lovely shade of fuchsia, just like the roses at the bottom of my garden. Left an awful mess on the tablecloth, took 3 days of soaking to get the mess out, but the man was perfectly smooth. I believe he went on to stardom with a passing acrobatic circus.
In any case, women seem to have a thing for the smooth, muscled chest nowadays. If you're into that kind of thing, you can do worse than Just for Ladies. I don't think I've ever seen so many impressive chests in one gallery.
Aside from the naked men and sex photos, this site has decided to go for what a woman really wants - good shopping. It's got a shopping portal, as well as news and weather, and personal services, which makes for a far more interesting site than say... women.com.
Trial is $2.95... I like the tour, it reminds me of Fenwick when he was having one of his funny turns and insisted on performing cunnilingus in public.
Note: This site is now defunct. Please visit For The Girls Instead!

Hello My Dears!

Are you ready to get wet?

I had just started the raglan sleeves on my Simplicity Triple-Necked Checked Jumpsuit with matching gumboots when Fenwick arrived home from Bowls. I didn't notice the look in his eye, nor the way his bowling whites were bulging in a way that strangely resembled the time he'd put the jack down there after 6 pints at the bar. Nor did I notice the fabulous bunch of red roses he'd bought from Nancy the florist for only $9 because they were half dead. This was because I was midway through a difficult knit-one-purl-three-hundred manoeuvre that took up most of my attention. What did finally cause me to look up was the way that Fenwick didn't shout "Where's me dinner then, duck?" like he always does. I knew that if that happened, he was either dead, or the Viagra had kicked in and I was up for an evening of lurve.

I carefully packed the knitting away as Fenwick cranked up the old His Masters Voice with our favourite Burt Bacharach record. Soon we were dancing by candlelight, but only because Fenwick had blown a fuse when he cranked Burt one too many times and the electricity had refused to join in the fun.

He held me close as we swayed to the silence, and before you could say "rat testicles" his hand was creeping its way under my housecoat. Then it was creeping its way under my pantyhose, around the super-strength girdle, across the control gusset, until it passed the barrier of my starched white cottontails. I shivered and nibbled his not-unhairy earlobe, brushing my hand through what was left of his hair.

"Whisper sweet nothings," I sighed. Soon Fenwick was telling me about the way lawn mowers just don't work like they used to, in a soft, luxurious voice. I could feel his manhood jutting its way through his double bleached trousers, and reached down to unzip and release him. Then the zipper got caught on the surrounding material and I had no choice but to kneel down and rip his pants open with my teeth. This was no mean feat considering I was wearing my best dentures at the time, but it still served to inflame Fenwick further than the Viagra had already done.

He grandly swept me into his arms and promptly put me back down again, lest he slip a disk, and we proceeded together to the bedroom...

What? Don't you like this?

Well, fine, here are some sites with stories you might prefer. Go on, go. See if I care.

There are plenty of stories at Adult Verifier, which you can reach through my Naughty Bits section.
Dude Dorm at Womens Porno
My sweetikins, I think you'll like the Dude Dorm. I know I did. They've put 12 guys in one house and put 12 webcams on them at all times.
Members can log in a watch them go about their daily business - in the shower, in the toilet, in bed. Frankly I found the most fascinating part was when they did the housework. Imagine it - men actually cleaning the house!! I was flabbergasted. I had quite a funny turn watching one of them do the dusting. Who'd have thought a man would do such a thing?
Of course, the other members were far more interested in looking at them naked, and chatting to them online. I watched a young whippersnapper called Jason fondle his rather large and bendy penis in front of a chat audience of 80 people, many of whom seemed to be having the same hot flushes as me. Their typing went all funny just as the young man had an orgasm...
In any case, I recommend this site, just for when they polish the silver.
You can watch everything that happens in the Live Dude Dorm at Womens Porno
Note: This site is now defunct. Please visit For The Girls Instead!
Silly Ad Corner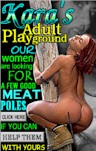 Mainstream sites can really wander off into silly territory when it comes to what makes women orgasm. Here's a prime example. Nothing like shagging a splintery pole to get you off. Strangely enough, Kara's has long been a favourite of women, and was a female mainstay before the current crop of women's erotica sites appeared.