Note: Ladies Secret is no longer operating, but I liked Grandma's take on this ad, so I've left it... and just put a link to For The Girls. *Evil laugh*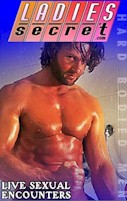 Is this really Russell Crowe?
Well, no my dearies, and I can tell you why. I used to babysit the lad back when Fenwick and I lived in Coffs Harbour. And didn't the little bugger like to run around naked on the front lawn?
I'd be trying to tidy the yard, and he'd be wielding his little wooden sword and shouting "Unleash Smell!" at passers by, before letting rip with some of the loudest examples of flatulence I've ever heard. It did the roses no good, I can tell you that now.
Well, anyway, he had a particularly noticeable birthmark on his private bits and this is how I know he hasn't taken up posing nude for Ladies Secret. The man in this ad, and in this gallery, appears to have no distinguishing aspects to his genitals at all. Apart from the fact that his penis is enormous, of course.
And despite the fact that Ladies Secret has no apparent nude photos of Russell Crowe, it did have so many good looking naked young men that I clean forgot about watering the roses and had to use up all the batteries on Old Buzzy in the bedroom.
Quite exhausting, I can tell you!

Now that Ladies Secret has closed down, I recommend you go looking for Russel Crowe lookalikes at For The Girls. You never know your luck.


It's a little known fact that if a woman's inner labia poke out, it means either that she has a very large sex drive, or that she's been lifting weights with her lower lips. Often both.

Ah the suspender belt. Men love the sort that show a lot of thigh. I used to have the best suspender belt in town. It showed all the thigh. The straps went all the way down to the ankles. You could wear a pair of socks with that belt, you could.

Did you know a man's Epididymus - it's inside, near the testicles lovey - that bit closely resembles my boiled tripe and cabbage? It's a funny old world, isn't it?

Pornographic films, internet sex, pah! In my day all we had was the wireless radio. Had to use your imagination, you did. It was all moans and groans, with an ad for Rinso in between. Many a night my dear husband Fenwick, God rest his soul, and I would sit by the fire and listen to sex on the wireless. Livened up my knitting, it did. Mind you, it could be confusing. One night I tuned into static and had the most mind blowing orgasm. Another time Orson Welles put on a major production that had half the country convinced he was having sex with the Martians.

Let me tell you this: it's not a man's nose or feet that tell you the length of his penis. It's how he ties his shoes. Big loopy knots are a winner, lovey. If he's using velcro, just go home.

There is little difference between a circumcised and uncircumcised man. Except when cleaning the toilet floor.

Shakespeare mentions the wet patch in Sonnet 298 when he says "The silent seep, O, lovers sleep in sticky leavings."
The Germans refer to the wet patch as: scherfengerfenhoffergack. This translates as "sticky cool damp area between the buttocks which never ends up where it really belongs."

In early times the clitoris used to be referred to as Yummlickenbit, which roughly translates as: "that bit at the top of a woman's open pubic lips". The Catholic church subsequently changed the name to "clitoris" so no-one would know where it was.
Contribute your own sex facts!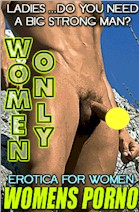 Note: This site is now defunct. Please visit For The Girls Instead!
Yes, this is a blatant ad. But I do rather like it, dearies. Do you think he's trying to tell us something? What is it boy? What? Jimmy's in the well...?
I should let you know right now that Womens Porno wins as far as value for money goes. A trial membership lasts for 3 days and costs $2.95... but the best thing is that you then get FREE ACCESS to 21 other porn sites.
My pension doesn't go far, so I was quite pleased with this deal. Just for curiosity sake I went over to Fetish Hospital... it was rather extreme, I must say. I watched a video of a woman having sex with a metre-long blue dildo... her expression was a little hard to describe, but the doctors inserting the thing seemed to find it quite a lot of fun.
It brought to mind a rather nasty experience I had in hospital, after Fenwick and I experimented with a particularly impressive German sausage...
Well, anyway dears, Womens Porno is a very large site, and if you're curious about what goes on in paysites, this is probably the one to try, because you get to find out what all those dirty men are looking at as well.
Note: This site is now defunct. Please visit For The Girls Instead!