What is the G-spot and where is it? What do I do with it? Is there a difference between the clitoris and the g-spot?
The g-spot is an area located inside the vagina, about two finger knuckle lengths in, while the clitoris is a woman's main sexual organ, located at the top of her outer lips. Click here for a photos of women's genitals to see exactly where the clitoris is.
You'll find more information about the g spot on this page, which has been written with women in mind. It gives information on where it is and how to stimulate it, as well as info about female ejaculation.
Keep in mind that not all women are able to have g-spot orgasms – many can't even find the area we're talking about, so your partner may not have any reaction to you stimulating the g-spot. The clitoris, on the other hand, is a sure-fire winner! Stimulating the clit with either your finger or your tongue will go a long way towards helping her to orgasm.
- Jason
Is cunnilingus better while my partner is still a virgin or not? Would manual masturbation be better?
Cunnilingus and manual stimulation are both good, whether your partner is a virgin or not. Both methods are excellent for bringing on a female orgasm, whereas penetration only works for about 33% of women – so make sure you include either cunnilingus or manual stimulation of the clitoris in every single sexual encounter you have with your partner, even after she loses her virginity.

One of the bigger issues is this – if she's a virgin, she's generally inexperienced with sex. She's most likely masturbated herself to orgasm alone, but many women have to learn to relax with a partner, so she may not be orgasmic with you in the beginning. You need to be patient and loving, and help her communicate her needs. It might be that she doesn't like cunnilingus, or that you need to refine your manual technique with her help. Talking about it always helps! In the end, only your partner can tell you whether cunnilingus or manual stimulation is better, because her responses are what count.
- Jason again
If you're looking for a mainstream site that offers female ejaculation content, try Sexy Gushers - It's got a one day free trial!
---

Please Your Lover offers advice on all aspects of sex, including how to reach the G spot. This excellent online guide is aimed at both women and men. For a limited time it's offering a free sex kit! Click here to find out more
---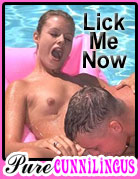 Pure Cunnilingus - the only site on the internet devoted to men going down on women!